In just a few uses, upholstered furniture can become extremely dirty and stained. On a daily basis your furniture is sat and laid on often. You can't be there all the time to keep an eye on all of your furniture to make sure no stains get on it. Food gets spilled on it, pets lay on it, and sometimes children are even caught jumping on it! With proper upholstery cleaning in O'Fallon, IL any unclean upholstered furniture can get cleaned once again. There are three types of upholstery cleaning in O'Fallon, IL that our technicians provide.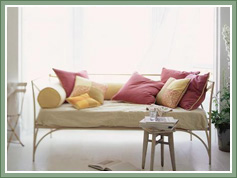 Deodorizing
One of the main reasons for needing a furniture cleaner is to have it deodorized. Whether it smells like an animal has been sleeping on it, or it simply has sat too long without being cleaned, chairs and couches alike quickly become smelly and unbearable to use. Our cleaning company works to eliminate the odor and leave your furniture smelling fresh.
Hot Water Extraction
Just as we do with carpet cleaning, we provide a hot water extraction for upholstery as well. This ensures all stains and spots will be thoroughly cleaned and removed from your furniture. The heat allows the water to separate more dirt from the furniture.When the water is extracted, it will bring all the dirt up with it.
Furniture Protection
Once the cleaning has been completed, the furniture needs to be protected. This is part of the overall cleaning process. The protection spray works to improve the furniture's resistance to stains and soil, making it more difficult to get dirty in the future.
Our upholstery cleaning in O'Fallon IL company will clean, deodorize, and protect any upholstered furniture in your home. You will be amazed at how your furniture looks and feels after our technicians are finished with it.

We will get back to you with a free estimate

We will get back to you with a free estimate

We will get back to you with a free estimate

We will get back to you with a free estimate

We will get back to you with a free estimate

We will get back to you with a free estimate